Jacqui participates in a range of events throughout the year. Please return to this page regularly to see updates of speaking engagements, workshops and talks.
Developing your Novel Course at The Loft Room, Wallacespace, Covent Garden, London WC2
Friday January 22nd 2016, 9am – 5.30pm
An exclusive one day course for writers of fiction who wish to improve their writing skills and take their manuscript to the next level
Are you a writer of fiction, ready to kick-start your writing career and take your writing really seriously?
Do you love writing fiction but feel stuck with your manuscript, uncertain how to get the reader deeply engaged?
Do you need help with your opening chapters, making your characters come alive, keeping the reader turning the page?
Are you stuck in the middle, wondering how you'll ever get to the end?
This course is for all fiction writers who want to really improve their work and complete a finished manuscript. If you have dabbled in writing fiction but now want to make strides with your writing or if you're an experienced writer looking to polish a second draft of the work, this course will make a real difference to your output and your craft. You will learn what literary agents and publishers are looking for, but equally importantly how you can achieve this, whilst maintaining your authentic voice.

One special aspect of this course is the opportunity to have your tutor or one of her experienced consultants review up to 50 pages of your work and provide a full written report or meet with you individually to discuss your fiction and make editorial suggestions. This can be particularly useful if you are preparing to submit to literary agents and publishers.

For more information, go to the Developing Your Novel page.
13th – 15th November 2015: NAWE Conference 2015, Durham
On Friday 13th November, Jacqui will be presenting a talk and workshop on the subject of coaching advanced writers, at the NAWE (National Association of Writers in Education) conference at the Radisson Blu Hotel, Durham:
Coaching professional writers: an approach to supporting the advanced writer
As writers progress and approach publication, they require support that is broader than pure creative feedback. A 'whole person' approach becomes vital, as their needs are increasingly varied and individual in nature. In this session, we explore coaching skills that enable us to better support the advanced writer. I share my experience of working with MA Creative writing graduates and professional writers. We will examine areas including self-motivation, project management, digital and entrepreneurial practice and income-generation. We will also consider responses to advanced work in order to enable on-going development. There will be opportunities to practice coaching during the workshop.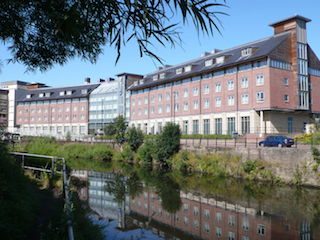 The NAWE Annual Conference is the essential UK event for all those involved in the teaching of writing, enabling writers and their colleagues in education to share their experience of teaching writing at all levels and to address current issues. Each year, the conference runs from Friday lunchtime through to Sunday midday, with special guests reading in the evenings after dinner. Click here to access the full programme.
Urban Creativity Workshops, London
Jacqui Lofthouse works with Clare Barry, running Urban Creativity Workshops for creative individuals as part of their Paradise Road Project. No workshops are currently scheduled but workshops are likely to resume in 2016. Do subscribe to the Paradise Road Project newsletter to be kept informed about dates for the next workshops.
Paradise Road Project embodies all that creativity is and should be: collaboration, fun, openness to learning and a willingness to follow sparks that emerge from all these things. To my mind, the Urban Creativity Workshop is unique: it provides a practical focus on your own creative processes and a springboard to new and exciting things. If you only have chance for one day out of your busy schedule this year, do this workshop. It will nurture your creativity for months to come. – Rachel Connor, Author of Sisterwives and Lecturer in Creative Writing
The Urban Creativity Workshop was a fun day of reflection and planning that has inspired me to take a closer look at how I'd like my work to develop. – Jaq Hazell, Author of London Tsunami and Other Stories
Past events:
27th – 29th August 2015:  Charroux Literary Festival, France
Jacqui Lofthouse will be appearing at the Charroux Literary Festival in the medieval town of Charroux in the Poitou-Charentes region of South West France. She will be opening the festival with a talk with readings: "Imagery and Impulse – on visual and historical inspiration", followed by a workshop.  Then on the Friday, she will be hosting a writer's networking lunch and coaching session. Jacqui will be  sharing many insights on the writing life and how you can attain maximum focus and inspiration in your work.
Many wonderful novelists and poets will be taking part in the festival, including Kate Mosse, Sarah Harrison and the poet Katherine Gallagher, as well as Jacqui's friends Barry Walsh and Diana Morgan. You can find information about booking here.  Jacqui's full blog post on the event is here.

I would love to have the opportunity of meeting you in Charroux. Do let me know if you are coming and be sure to get in touch.  You can find the full programme for the Festival here. – Jacqui Lofthouse
Can't wait for the Events?
Work with Jacqui directly:
or