Authors – here's where you find your tribe…
Do you sometimes feel your writing project is too big for you? You're serious about your work but wish it wasn't such a solitary pursuit?
You know you have real talent as a writer, but it's hard dealing with the prospect of rejection. It's difficult to keep motivated when you don't know if your book will ever be published?
And yet... You remain in love with your story. Writing is an essential part of who you are. And in truth, you dream of finishing your book or script and bringing your work to a wide audience.
Welcome to Inside Story!
We share your vision of writerly success! Our Membership group is here to offer you the support and community that will enable you to reach your writing goals, knowing that you are producing work to be proud of.
We work with you to develop a professional approach to your writing that will transform your writing life.
In Inside Story we offer you the roadmap to finish your writing project and to travel the route to publication, whilst knowing you are fully supported. When you're part of our community, you are never alone in the process – as you move towards becoming a writer who understands the industry, gains good business sense and is hugely excited at the next steps of the journey.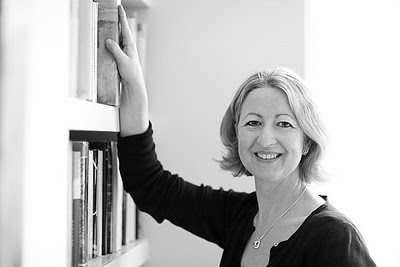 I remember my own first steps as a writer – back in 1992, sending my precious first novel off to Faber & Faber, only to be hastily rejected. I understand what a long road we have to travel as writers, how many layers of reworking are involved to finish a project. I still have my unpublished novel under my bed!

But I also know what the rewards of the profession are…

Having spent over twenty-five years as a novelist and writing coach, I have worked with writers at all stages of their careers, from beginners to prizewinning authors. I understand now that what writers need most are focus, community and a structured approach to writing.

We need to ensure our passion is matched with education and action. We need to become more professional in our approach. And most vitally, we need a tribe who will support us on our journey…

Jacqui Lofthouse – The Writing Coach
A writers' community, offering you weekly creative writing classes with Jacqui Lofthouse and guest experts.
You gain direct access to Jacqui and your fellow students inside our private, curated members' area.
Join our 'write-ins' – focused time to spend on your work with the accountability of the group.
Inside Story is a new kind of writer's community
#1 We are an online writers' community. Join us in our curated online platform – a social network of our own. No Facebook group, no distractions. Just a beautiful space where you can meet others, share ideas and links and have genuine, deep discussions with fellow writers. Our founder Jacqui Lofthouse participates in the discussion.
#2 When you join, you gain immediate access to live weekly classes at variable times so you can always catch a live class each month, no matter where you are in the world. Writing classes are held by Zoom and are led by Jacqui Lofthouse and members of our Writing Coach team. Lessons are recorded and you can watch them on playback.
#3 You gain access to our resources which are added to each month. Each week we release new modules, building to a complete library in all aspects of writing craft such as plot, character and dialogue – all complete with downloadable writing exercises.
#4 Regular weekly 'write-ins' where you can write together with others, with the accountability of our community.
#5 Access to our special guest Zoom calls each month with guest authors who answer your questions directly. All calls are recorded and accessible via our Members Area.
We'd love to welcome you into our community and share the journey of completing your writing project!
Experiences of working with The Writing Coach
Without Jacqui, I would not now be a published author. She was there at several key points in my writing career with the advice and encouragement that allowed me to make the move to the next stage…The coming year looks exactly like the future I could only dream of during those years as an unpublished writer. There are so many people who have helped me on this journey in many different ways, but Jacqui Lofthouse is at the head of my list.
— Carolyn Kirby. – Author of 'When We Fall' and 'The Conviction of Cora Burns'
A friend recommended Jacqui and, over six months, she gave me the confidence to take the big step of committing a whole year to one project. She also provided excellent literary feedback, helping me turn my first chapters into little diamonds. Now, my first novel Cuckoo – the one Jacqui helped me with – has been published by Headline. I am about to hand my editor my second. I have one of the best agents in the country, have sold Italian, French, German and Dutch rights and I write full time.
— Julia Crouch. – Author of 'Her Husband's Lover', 'Tarnished' and 'Cuckoo'
Annual Membership £375 (save £165)
Monthly Membership £45 per month
A Peek Inside…
Your classes available to watch at any time…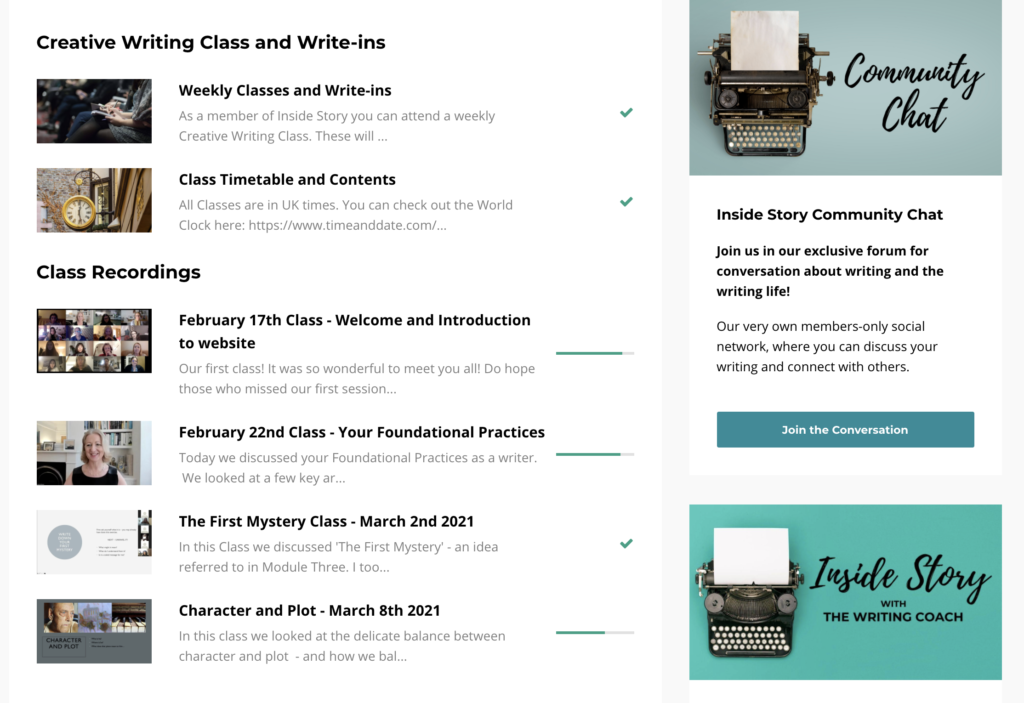 Exclusive for May
Our Special Guest Author for May is Nikki Sheehan. Nikki Sheehan is an author, journalist, mentor, and mother of three teenagers.  She has published three MG and YA novels and also writes poetry, and books for younger children. She has been shortlisted for, and won many awards, and her books Swan Boy and Goodnight, Boy were both nominated for the Carnegie medal.

Scholarship Places
Jacqui Lofthouse offers six one-year scholarship places for Inside Story each year. The 2021 scholarships are now closed.
This year the scholarships were awarded to writers from Black, Asian and minority ethnic communities – some of the winners will be announced shortly on our blog. The scholarships are awarded based on a short sample of writing.
We are committed to improving equality, diversity and inclusion in our community. This is in addition to Jacqui's work as a literary partner at Creative Future Writers' Awards.
Please sign up to our newsletter to be kept informed about the 2022 scholarships.
If you struggle to find time to write, why not join us at Inside Story for one of our regular 'write-ins'?
Annual Membership £375 (save £165)
Monthly Membership £45 per month
Instant Access to our Special Guest interviewees and teachers
In Inside Story, you can attend live interviews and classes with our monthly special guests
Frequently asked Questions
Q: Is this Membership only for those who want to write a novel?
A: No, it's aimed at anyone who aspires to complete a creative writing project, whether that's a book, a play, a screenplay or a collection of poems.
Q: What level do you have to be at before joining?
A: The membership is suitable for all levels of writers, from beginners to published authors. The teaching explores areas that are relevant to writers at all stages – we teach both foundational skills and advanced practices.
Q: Is this just for writers based in the UK?
A: No – we have members internationally, including in the USA and Australia. We organise class times to suit all, so that everyone can attend AT LEAST one class and one write-in per month. There is a write-in and a class every week and you can attend as many as you like. All classes are also recorded.
Q: If I join monthly, am I tied into a full year of monthly payments?
A: No – You sign up for recurring monthly membership, but you can easily cancel at any time with the click of a button. No complicated email correspondence! So why not try us out for one month. We have a feeling you'll love it and stay, but no hard feelings if it's not for you…
Q: Will I receive one-to-one coaching as part of my membership?
A: In class, Jacqui or members of her team may answer your direct questions or may invite members to share short extracts of work to be 'hot-seated'. Jacqui or the team may ask individuals to volunteer to be coached in class. However, this may not be possible for all members and is an occasional benefit rather than an aspect of the membership. Many questions answered by Jacqui in class will be relevant to the entire group and members may also share their experience with you during your community meetings. Jacqui will also regularly contribute answers to your questions in our private community forum area.
You don't have to write alone or put your writing career off any longer…
We can't wait to welcome you to our membership and to help you find focus and professionalism in your writing in 2021!
Annual Membership £375 (save £165)
Monthly Membership £45 per month
Join our community and become a more productive, inspired and business-savvy writer. We can't wait to see you Inside…