The fear of the blank page plagues authors at every level of their career. Indeed, countless wonderful books never get written because too many writers simply don't have the courage to get the words on the page in the first place. I have made it my personal mission to understand what motivates writers, how we can access our creativity and what gets in the way of it. – Jacqui Lofthouse
Jacqui Lofthouse's ebook was incredibly useful to me at a time when my writing became stuck. There's such a clever mix of advice on inspiration and craft. But most of all it's a practical handbook that all writers – published and unpublished – should consider an essential part of their professional kit. It saved that novel's life. – Liz Jensen, author of The Ninth Life of Louis Drax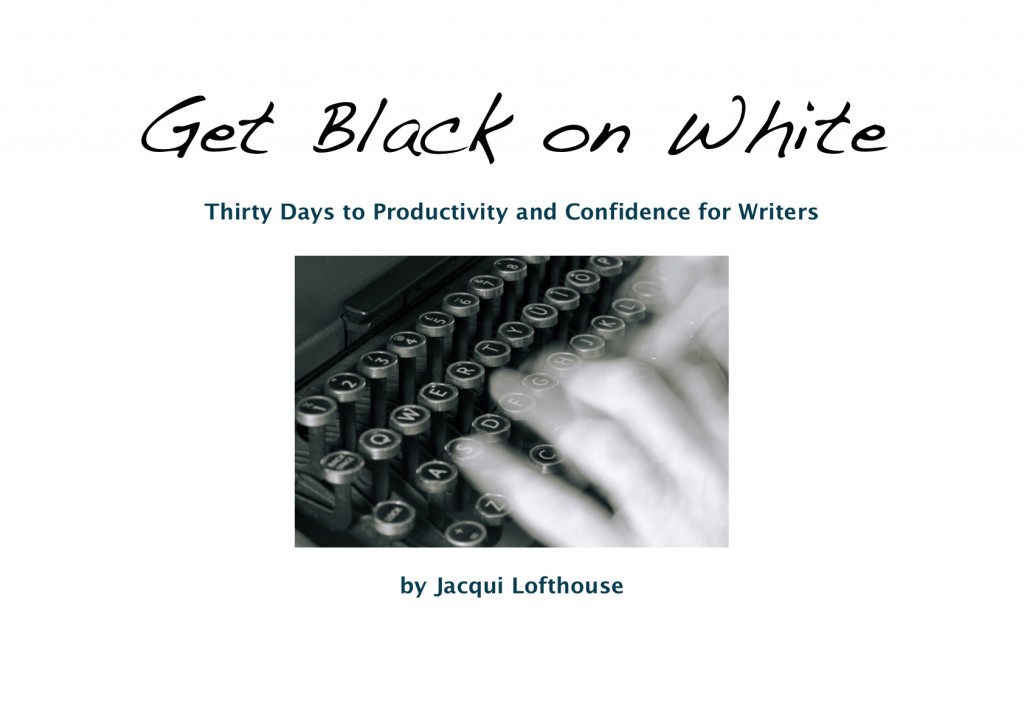 Get Black on White
Motivation and confidence are key issues for writers at all stages of their writing lives. I frequently work with established authors who are struggling with the same issues as beginners: how to get beyond uncertainty about a work, how to overcome the fear of the blank page and, in the words of Maupassant, get 'black on white'. It's a myth that a sound knowledge of 'technique' and an ability to tell a good story are all that's needed to write a publishable book. You may be the most talented writer alive but if you're like most writers, you've probably discovered that your talent alone isn't enough. Dedication to your craft is vital, but many apparently dedicated writers are not finishers.
It's not uncommon to spend months, even years procrastinating about writing: researching, making notes, thinking about writing, writing articles to promote your 'platform' or attending writers groups, indeed anything other than working on a solid draft of the book. Worse, some of us get so frozen with self-doubt that we have periods where we don't write at all. We're so worried about getting the plot right that we are afraid to write a scene. Or else we have a draft of a novel, but we're afraid we may never be able to form it into a finished version, so we keep writing more fragments but never pull it together to make a whole.
The purpose of this ebook is to enable you to turn your attention back to your writing and to support you as you move towards being more productive and confident in your work. By the time you have completed the programme, you will have conquered your writing fears and you will have refocussed your attention on the work itself.
Every day on this programme, there is a writing exercise.
Days 1-10 are about conquering self-doubt and procrastination.
Days 11-20 lay the foundations for a writing life.
Days 21-30 enable you set yourself up for writing success.
If you follow the optional daily exercises, you will also have written 30,000 words in 30 days: approximately 100 pages of a standard manuscript!

What do writers say about Get Black on White?
I just wanted to say thank you for the guidance and inspiration that the 30 day coaching program is providing me with. Yesterday, I was struggling to write – but I sat down and got on with it, and had a big insight. Today it was all about unraveling an image. I unraveled the image and discovered much more – I continue to be surprised by the power of the unconscious! I look forward to the next 16 days – and many more – of writing! – Olivia Sprinkel, MA Creative Writing student
Jacqui Lofthouse's ebook gave me focus and renewed purpose at a time when I was not organised enough to do much other than run away to the country with it on a laptop. As with all Jacqui's work, it is beautifully written and a delight to work with. I am drawn to reflect on her insights frequently as I pursue various projects, especially the advice to allow the unconscious to provide insights into fiction. I'm going to print it up for my reference shelf.
– Genevieve Tucker, Journalist and blogger at Reeling and Writhing
How will 'Get Black on White' help?
If you follow this programme, you will emerge from the 30 days as a different kind of creative artist.
You will understand your own creative processes
You will know how to get writing, even when you don't feel like it
You will gain self-confidence as a writer
You will have established your own voice
You will be passionate about your writing and enjoy the process
You will have experienced the discipline and enjoyment of working with a writing coach
If you do decide to follow the daily exercises, you will have written 30,000 words of your book – a 100 page manuscript
Get Black on White is in PDF format which you can immediately download. It is a 145 page guide that shares all that I have learnt about productivity and confidence in my career as a novelist and writing coach. I look forward to hearing your experiences of working with Get Black on White.

Available only to subscribers of The Writing Coach newsletter.