Author of Love & Justice.
Word count Tuesday to Friday – 4,500!! Blimey! What sort of magic fairy writing dust are you scattering?! This is the key to me – I think – not giving up on writing where I would have done before. Whatever you're helping me to reveal about myself, thank you … I'm going to start calling you a white witch as well!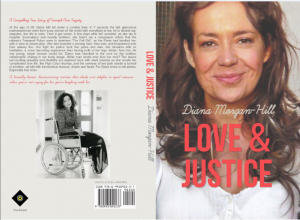 Find out more about Diana Morgan-Hill
Writing has been at the heart of Diana's working life. She was a press and publicity manager for Brookside, Channel 4's soap opera, and ITN and then became a journalist and editor for a number of TV business publications. After freelancing for the MIDEM organisation, she set up MediaVision, a press, public relations and strategy consultancy to cater for the booming markets in international television. Suffering from catastrophic injuries following a train accident, she then had to refocus and has subsequently worked as a TV presenter, as a chief executive, was MD of a small publishing company, and an assistant producer in TV. Her voluntary work has included trustee and committee positions for the National Wheelchair Tennis Foundation, The Limbless Association and the British Red Cross. She now supports the Arvon Foundation, a charity that provides writing weeks for potential authors, and she continues to counsel others suffering from limb loss. Diana lives in Dorset, by the sea. She is a motivational speaker and is presently writing her first novel, a psychological thriller.
Read the Press Release about Diana's book and Press coverage about Diana's story.
Diana's biography on the Blackbird Books site.
To buy Love & Justice: A Compelling True Story or Triumph Over Tragedy from Amazon click here (affiliate link)