A guest post by Elizabeth Cox, member of The Literary Community.
We asked Elizabeth Cox, one of Jacqui Lofthouse's personal clients and a member of our Membership Group The Literary Community to share her experience of her time in our community. 
Recognising I Needed Help
I joined Inside Story – now known as The Literary Community –  in February 2022 having been coached by Jacqui Lofthouse since late 2019. Prior to becoming Jacqui's client, I had started, but not completed, three novels. I enjoyed the planning stage but found the prospect of writing them overwhelming, so I would distract myself by planning something new. This cycle was leaving me feeling frustrated and unfulfilled.
Coaching and Mentoring
Having been diagnosed with Autism in February 2019, I was aware that I had some specific needs. For example, I wanted to understand the process from the outset, to travel my writing path at my own pace and not feel rushed, to not become overwhelmed by too many demands or too much personal interaction, and to be 'left alone' to write between coaching sessions.
I reviewed the market for literary consultancies with these requirements in mind and selected The Writing Coach. I'm thankful that I made the right decision for me as Jacqui was flexible in adapting to my way of working.
Jacqui has undoubtedly helped me to become a better writer, but the first crucial advice she gave me was that I needed to focus on completing one novel. Now, at the start of 2023, I am working with The Writing Coach to prepare my novel Familiar Faces for agent submission.
A Supportive Literary Community
Whilst my coaching and mentoring time with Jacqui has ended, many of my writing needs continue to be met by The Literary Community. This is because:
All resources can be accessed online, and classes/guest speaker Zoom sessions are recorded. This offers me flexibility in that I can choose to attend a class 'in person' if I have the social energy or to watch the recording another day.
I can explore resources relevant to a writing topic that I want to improve, for example, dialogue, point of view or character development.
Jacqui and her team are published authors and so have much practical experience which they share generously.
I have a logical mind and when Jacqui explained her 'Writer of Impact' framework during a pre-signup session, I was convinced the programme would suit me. It is based on the three pillars of Writers' Devotion (Mindset), Writers' Alchemy (Craft) and Writers' Connection (with a readership, a writing community, and the publishing industry). The Connection strand is particularly difficult and stressful for me, so I tend to avoid these types of activities. However, The Literary Community provides a compassionate environment which allows me to learn and become more motivated about embarking on them.
I feel part of a group of dedicated writers who understand the inner compulsion to write despite the obstacles that life tends to place in our paths. We all feel and experience the importance of writing in our lives.
Being part of The Literary Community has enabled me to appreciate that some other people struggle with the same issues – lack of confidence, poor self-esteem, perfectionism – and that these can be addressed. I now load less pressure on myself, allowing me to feel less driven and more content with my work-life balance.
Throughout my life I have been given reasons why I can't do something but Jacqui's warm and encouraging approach challenges this. She sees and values each member as a writer and genuinely wants us to succeed.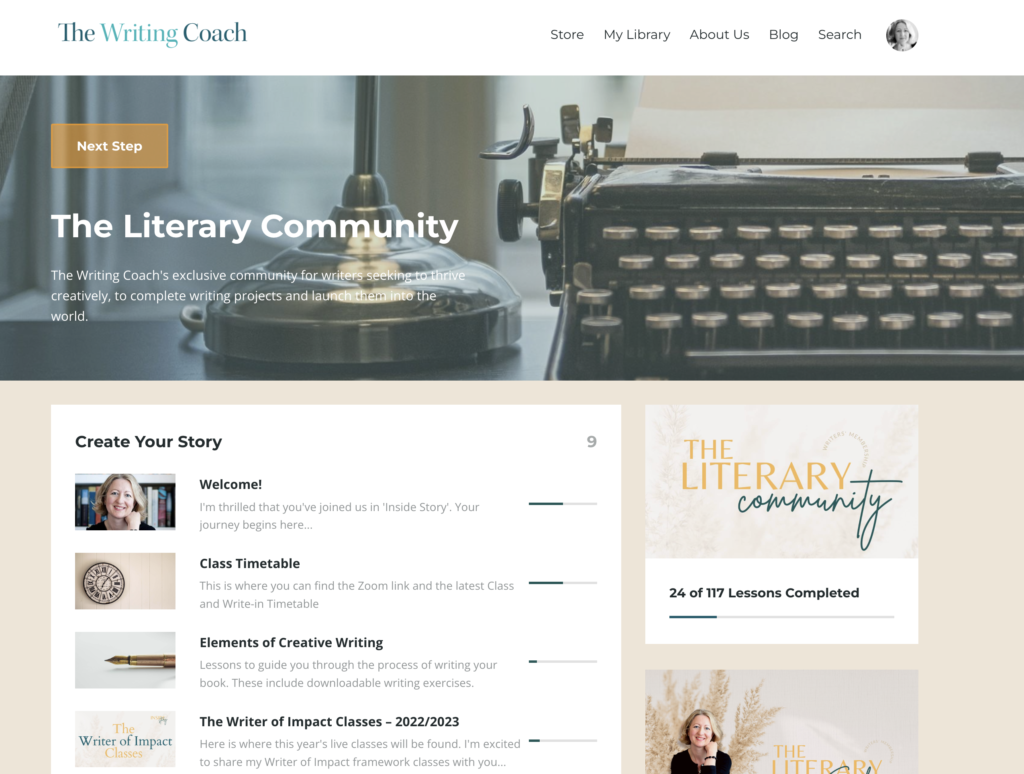 The Future
Working with Jacqui and being part of The Literary Community has fostered my belief that I am a writer, and this motivates me to persevere and finish projects, further strengthening my belief. My former frustrating process has transformed into a healthy and satisfying one that makes me proud of my achievements.
I now have a home and community for my professional life and I'm looking forward to experiencing more of the gifts that The Literary Community will bring.
Doors close at 8pm on Monday 13th February 2023.
If you are reading this after that date, click through to join the waiting list.