In those heady days, back in 1995, when I achieved my dream and had my first novel The Temple of Hymen
 published by Penguin, it was easy to take myself seriously as a writer. How could I not, when I had my name on an orange spine next to that iconic logo? Here I am, shortly after publication, onstage with the late Sir Malcolm Bradbury, my inspiring teacher on the MA Creative Writing at UEA, feeling every inch the serious writer (even if my legs are looking a bit wonky)
Yet the literary life is an unpredictable one, for all of us. I must admit, I never thought I'd be one to find the big publisher; it was a bit of a shock in a way, and whilst I felt confident in those days, I also felt a bit lost and insecure too. I wasn't certain that I fitted into the glitzy publishing world. Indeed, I'll never forget the day when I had my first lunch with my editor in an expensive Soho restaurant. Immediately before I left the house, my cheap IKEA writing desk collapsed underneath my brand new Apple computer. I mean literally, the desk keeled over and the computer crashed to the floor, just as I was about to leave the house for the most important lunch of my life. Naturally, I spent the whole lunch freaking out about my broken computer and the state of my hard drive, not daring to say why I was a bag of nerves, for fear of looking like a total prat.
On the surface, my social skills were just fine; after all, I'd had an earlier career in media training, I could do surface confidence pretty well. But there was always a part of me that felt like a bit of an imposter, an ordinary girl from Essex who had somehow walked into this exclusive world and was certain that at some point she'd be found out.
Luckily there was one area where I had a deep confidence. I knew that I was a serious writer. On my first day on the MA Creative Writing at UEA, Malcolm Bradbury said to our cohort of 12 students: "This year, you are writers." It was genuinely life-changing. Here was this hugely respected man, telling me to take myself seriously; I decided to do just that.
I had wanted to be a writer for a long time; I had dreamt of this moment for years. I honestly believe that the seriousness I cultivated back in 1992 has endured over the last twenty-odd years as a writer. It has taken me through many stages of my career. When Penguin turned down my second book, I was serious enough about the book not to ditch it. I doggedly kept going, through the doubt and uncertainty. I took a job as writer-in-residence at Feltham Young Offenders Institution and one at City University teaching creative writing. And stubbornly I kept writing the book that Penguin didn't want. Eventually, when I'd written a novel I was really proud of, I sent it out again and (a few rejections later) was rewarded by a deal with Bloomsbury.
Bluethroat Morning went on to become my bestselling book, with publication in six countries and 100,000 sales in Holland. Those were the headiest days of all. But it doesn't stop there. Persistence is all. The rejections for my third book came hard and fast. I didn't get a British deal for that book. But in a way, it didn't matter. I'd already had one acceptance, from my Dutch publisher. I was buoyed up by publication of that book (Een Stille Verdwijning) in Dutch. I might have despaired. Instead, I celebrated my success in Holland. I was serious about my work and I no longer needed the world's approval.
The publishing world is full of highs and lows. I've worked with so many writers who feel frustrated about the industry and I've experienced that frustration too, myself, at times. Indeed, I went on to satirise the whole creative writing world in my novel The Modigliani Girl
. But I still believe, as I have always done, in my own talent – as well as in my ability to continue to grow as a writer. If I didn't love writing, if I didn't believe in myself, why would I do it?
I might be flaky about many things, but in my writing life, I'm serious. I take my professionalism seriously, I take my writing habits seriously, I take my writer clients seriously. And I hope that you will do the same.
Here are a few ideas that might help you in the process:
1. Only be a writer if you love writing and can't imagine your life without it. If you don't love it, you probably won't have the stamina to keep going when the going gets tough. You have to want to create your book, you have to care about the world you are conjuring or describing, in order to make this journey worthwhile.
2. When the going gets tough, eat chocolate – good chocolate. (This Rose and Bergamot is the best I've ever tasted and I'm not on commission!). Then get back to your writing.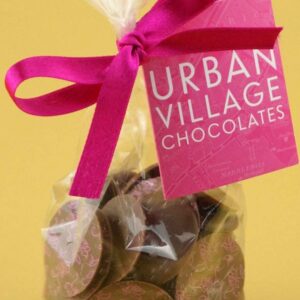 3. Write what you are passionate about, but also have an eye on the marketplace. Never write what you think the market wants. Follow your gut, your fascinations. But equally, be aware of what is selling. This sounds like a contradiction, but it's not. It's about balancing love with pragmatism; think about it.
4. Don't allow yourself to wallow in self-doubt: it's a waste of time. Don't focus on whether you have an agent or publisher and how that affects your self-esteem. Focus on producing the best work you possibly can and your own love of the world you are writing about. When your writing is ready, you will find a way of getting it out into the world, whether by a traditional or an independent route. Think about the writing first.
5. Find a writing routine that works for you. Find out what motivates you to write. Never think 'I can't possibly write anything in half an hour'. Have you tried? I like to have a couple of long writing sessions per week, but I also pick up my laptop late at night or take it to a cafe to write a few paragraphs over a cup of Earl Grey. But make sure that you work on your writing project often – don't put it off. The more you focus on the work, the more you will obsess about it, dream about it, and return to the page regularly.
6. If it helps you to do the maths, do the maths. 2500 words a week equals 130, 000 words a year.
7. Get really clear on what your writing aims are at any point in time. For example, at the moment, I'm working on a play and a young adult (YA) novel. It's my intention to complete a second draft of the play by the end of April, whilst dabbling in the YA novel during the shorter writing sessions. In May, I'll focus fully on that novel again and I intend to complete it by December latest.
8. Be professional. When your work is ready, send it out. Not just to one or two agents/magazines/competitions but to many. Keep a log of what you have out at any particular time. If you get specific feedback that suggests it's not ready, then pause and re-evaluate. Take action before sending that work out again.
9. Get good feedback and always act on it. Find a select number of people whose opinions you trust. These might be friends who read widely, colleagues in a writing group or a professional reader.
10. Believe in yourself and don't take any shit from people who tell you otherwise. There are a lot of people out there who think it's not possible to be a professional writer or to get published. If I'd believed them, I wouldn't be writing this now.
11. Consider how you will make money in ways related to your writing. Do you want to have a blog that makes money online for example? To write freelance articles or business copy? Or do you prefer to make your money elsewhere whilst you're developing your professional writing? Be aware that seriousness as a writer does not necessarily equal being a wealthy writer. Most professional novelists also have other streams of income.
12. Wherever possible, invest in your training. I practice what I preach here. It didn't stop with the MA. Two years ago I completed a PGCE in teaching secondary Drama and English, which I know will be a huge benefit when I go out there as a Young Adult writer later this year. It has also deepened my understanding of the young people I'll be writing for. Immediately after completing my NQT year in a secondary school, I attended Blogcademy (pictured below). Last term I completed a course in playwriting at The Rose Theatre, Kingston and I'm currently studying screen acting at City Lit. I find acting a wonderful counterpoint to writing, enabling me to inhabit characters and it's a great way of balancing my time at the desk.
13. Live a bit! Travel as much as you're able, go to fantastic art exhibitions, take in the outdoors, visit interesting old houses, see plays, and laugh – a lot.
What ideas about seriousness and professionalism can you share? I'd love to hear your comments.