We're delighted to announce the first digital release of our founder's second novel Bluethroat Morning.
First published in hardback and paperback in 2000 and 2001, by Bloomsbury, the new digital edition will be published by Blackbird Books.
Stephanie Zia, founder of Blackbird Books says "We are counting down the days to the first digital edition of Jacqui Lofthouse's exquisite literary mystery Bluethroat Morning."
Described by The Daily Mail as  'a thriller full of twists and turns that keeps the reader guessing – every word is magical, almost luminous',  Bluethroat Morning will be available as an ebook from 22nd May, $4.99/£3.49. Special pre-order price 99p/99c.
If you are a book blogger and interested in the mid-May blog tour, there are a few places available.  Please click here to let us know of your interest.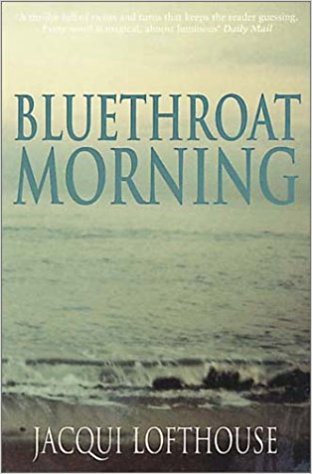 About Bluethroat Morning:
Alison Bliss, celebrity model and critically acclaimed writer, walks into the sea one 'bluethroat morning'. In death she becomes a greater icon than in life, and the Norfolk village where she lived is soon a place of pilgrimage. Six years later her husband Harry, a schoolteacher, is still haunted by her suicide and faithful to her memory. Until he meets Helen and they fall in love.
Harry and Helen's relationship initiates a return to the scene of Alison's death where they meet ninety-eight year old Ern Higham, and a tale is revealed that has been generations in the making. As Harry pieces together a tragic history and finally confronts his own pain, he discovers that to truly move forward, first he must understand the past …
'A moving read, threaded through with mystery and excitement.' – Good Housekeeping Magazine
'A thriller full of twists and turns that keeps the reader guessing. Every word is magical, almost luminous.' – Daily Mail
'A classic tale of longing.' – Time Out
'There are many elements to savour in this novel: the intertwining of past and present; the struggle to write and the responsibility of writing about others' lives. Best of all, Lofthouse has a fine eye for the bleak Norfolk landscape and how it both reflects and affects characters' moods.' – Tracy Chevalier author of Girl with a Pearl Earring
'Captures the spacey feel of Norfolk well – an engaging read, intriguingly structured, tough in some of its insights, and sexy too.' – Lindsay Clarke, author of The Chymical Wedding, winner of the Whitbread Prize for Fiction 
'Those who feel the reading public's love of the 19th century Gothic mystery may be abating will be given pause by this latest entry in the field of pastiche. This is a considerable piece, full of subtle characterization and a well-chosen raft of literary underpinnings.' – Publishing News
'The intertwining of the two main stories is very skilfully done, as is the delicacy and understanding she brings to the key themes – suicide, creativity, love and especially paternal love. Very moving.' – Henry Sutton, novelist and co-director MA Creative Writing, UEA
If you'd like to pre-order a digital copy prior to release on 22nd May, the  special pre-order price  is 99p/99c   and you can find the book here and the paperback here.